Computer Science
---
Computing History Displays: Fifth Floor - Donald Murray & Telegraphy
---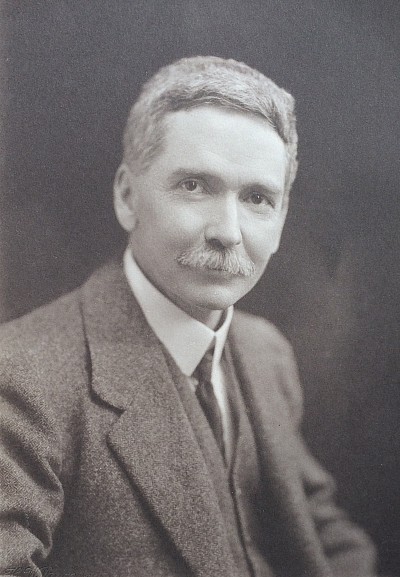 Donald Murray
Donald Murray, MA, MIEE, may be regarded as the first New Zealander to achieve a distinguished international career in Information Technology. He was a significant contributor to the development of high-speed machine telegraphy, which, from the 1920s to the1960s was the main technology for communicating textual messages, particularly for business.
Top
Murray's Background
---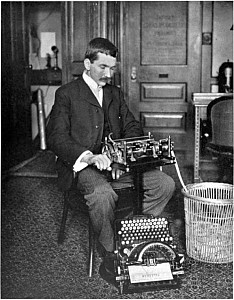 Murray Demonstrating His First Telegraph Machine
Although born in 1865 in Invercargill, he was raised initially on a pioneering farm at Kaukapakapa near Auckland. His family moved into Auckland in 1875 where his father was the manager of the Bank of New Zealand. Donald was educated at Auckland Grammar. He briefly studied agriculture at Lincoln University College but he then changed career to become a parliamentary reporter with the New Zealand Herald newspaper. He completed a B.A. at Auckland University College in 1890. He then moved to Sydney to a similar job at the Sydney Morning Herald, also completing an M.A. in Philosophy from the University of Sydney. Seeing the widespread use of telegraphy by newspapers, he became interested in extending telegraphy to use standard typewriter keyboards. Moving to London, he worked on solving this problem, founding his own company to manufacture and sell his systems. Retiring to Monte Carlo in 1925, he passed his remaining years writing on Philosophy, work not completed by the time of his death in Switzerland in 1945.
Top
Telegraphy
---
Telegraphy, "writing at a distance", had been developing for over 50 years before Murray got interested. It enabled a written message to be transmitted a long distance over a wire using electricity. It was a world-changing development – for example, instructions from a London business to a subsidiary in New Zealand could be sent in hours rather than the 4 months required hitherto. A message was keyed by hand in code (usually Morse code.) It was received with a sounder as aural dots and dashes and written down, being converted mentally from code to letters. It was very simple technology that used very low-cost equipment (apart from the cables), which is why it lasted into the 1990s.

Example Morse Code Message

Murray's First Example Message
Top
Murray's Achievements'
---

Murray's First 5-bit code
Murray's dream was to design a system so that any user could communicate with any other user, by means of standard keyboards and typewriters. His first US printing telegraph patent was awarded in 1892. He spent many years developing this system, working in New York and London. His first viable system was the "Murray automatic" – this had some limited success, particularly in Russia. More important was his "Murray multiplex" that sent four messages simultaneously in each direction. Widely installed in the 1920s, including in Australia and New Zealand, it continued in use until the 1950s. Murray was granted over 40 patents during his career.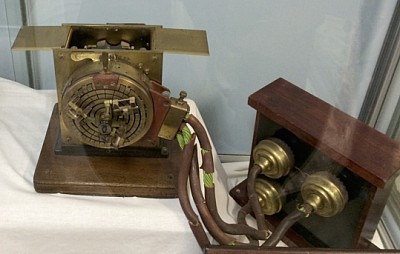 Murray Multiplex held at MOTAT
Top
Telex
---
The vision of Murray was finally realised after his retirement. It used "start-stop" transmission where each character was sent with its own synchronising signals. This allowed the use of exchanges for telegraphy. The Telex systems of the 1950s to 1970s were the main method for exchanging messages internationally until they were made obsolete by FAX, email and SMS.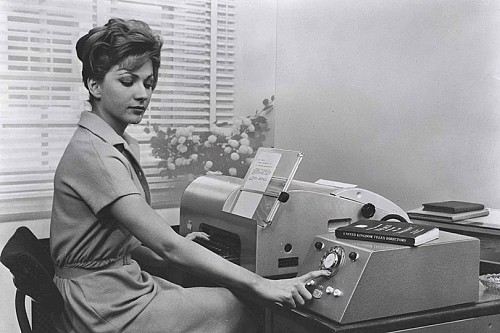 Operator at a telex machine in 1959. (Image from British Telecom (TCB 473/P 07138))
Top
Murray's Legacy'
---
Murray had great influence on telegraphy by his contribution of "survey" papers over the years – "Setting Type by Telegraph", "Practical Aspects of Printing Telegraphy", "Push the Button Telegraphy" and finally "Speeding up the Telegraphs." Murray introduced his own version of the 5-bit code, known as the "Murray-Baudot" code. This was the basis for an international standard. However, most of Murray's achievements have been long superseded, though he successfully promoted the use of standard typewriter keyboards, which led to their use with computers. There are a few shadows of Murray's technology surviving, such as the binary character for carriage return and the all-1s erase character.
Murray Advertisement, Telegraph & Telephone Journal, 1925
A lot more discussion about Murray, his life, family and achievements is available at: Murray Details
Top